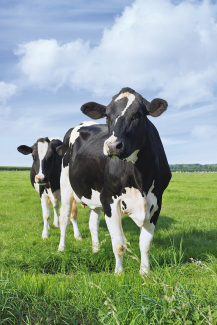 Embryo transfer or in vitro fertilisation are, in general, reproductive tools used for livestock farming. By working with embryos, the farm can progress in two fundamental aspects: genetic improvement and reproduction. Either separately, or simultaneously.
How much will I earn if use embryo technologies on my farm?
This is a really great and very thought-provoking question. This is what the producers should be asking their veterinarians. To answer it from a genetic point of view we need to complete three steps:
Select a genetic index that expresses the monetary genetic value (euros or dollars, etc.)
Sort our animals according to this index (genomic testing)
Simulate the embryonic programme so that the worst females carry the offspring of the best females.
By doing this, we can calculate the economic value of the offspring, compare it with the value we have without doing the embryo transfer or in-vitro fertilisation programme, and weigh it against the budget for carrying out the programme.
The difference gives us part of the financial return that will materialise as the offspring produced go into production and prove their genetic superiority. This route takes about 5 years for both beef and dairy cattle and clearly reflects the fact that this is an investment.
It is not an expense, even if it is veterinary and reproductive work. It is an investment in the most strategic aspect of a livestock farm—its genetics. The major advantage is that it is not lost over time, but is magnified generation after generation, which only happens with genetics, since it is the only thing that is inherited.
Embryo programmes also have a financial impact on the reproductive side of the farm. By carefully selecting the recipients, we can optimise the pregnancy rate. Embryo transfer, on the other hand, offers a great opportunity to improve the fertility of repeat breeders throughout the year and of all cows in the summer when heat stress takes its toll on insemination. In both cases the improvement in conception rate is at least doubled compared to AI, and the financial benefit is easily calculable for a farm with known reproductive data. Saving cows not yet amortized and improving summer pregnancy rates are quantifiable effects both in terms of the reduction of days open on the farm and the value of the pregnancies achieved.
There are some calculation tools to help us to predict the financial return and benefit of using ET in livestock farming. A realistic programme adapted to the size and needs of the farm can clearly pay off if the technique is carried out professionally and with good results.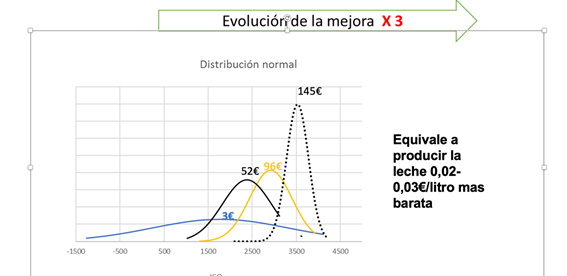 Example of the evolution of a livestock farm with ET. The graphs represent the normal distribution for genetic value in €. Blue = average in Spain; Black = livestock farm under study; Yellow = No. 1 livestock farm in Spain; Black dotted = simulation of the livestock farm under study after applying ET. The whole farm experiences an increase of 3 times the annual financial value of each animal.