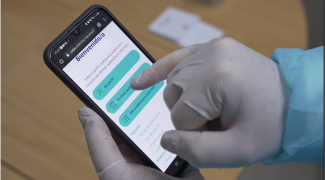 A new stage gets under way with regard to vaccinations against salmonella. As of May 2021, Primun Salmonella E can be applied as the first live vaccine against salmonella enteritidis that has been authorized for this period.
Thus, we provide the respite producers have been demanding for some time. Production cycles for laying hens are increasingly longer and the immunity imparted through vaccines applied only during the rearing period has failed to meet the new requirements.
Calier has succeeded in protecting against salmonella enteritidis with Primun Salmonella E up to week 95 of life at least but, are we ready to vaccinate during the laying period?
Primun Salmonella E is a high-value product, and as such, it needs to be applied correctly, owing to both the investment it entails and its importance from a sanitary perspective. We need to be sure that all the steps are followed correctly so that we can be safe in the knowledge that animals will be protected for a longer period of time.
After having visited various vaccinations in production throughout a year, we were able to confirm that, first, facilities do not have the same level of equipment as rearing farms -where, until now, the entire vaccination program has been applied-, and second, there was a lack of training in staff who were unfamiliar with the vaccine application methodology, as it was not common to give vaccines in these facilities.
This is where Calier is actively striving to be able to help and support clients throughout the vaccination process against salmonella enteritidis.
Calier has developed a specific website, which we have called WEVAP, which our clients can visit and register for through the professional section in our website.
WEVAP is a tool that will serve to audit vaccinations, as well as a guide for carrying them out. It evaluates biosafety, vaccine protection, preparation, application and evaluation of this process.
 
During the audit, water samples are taken at the end of the line with FTA cards, in order to detect the vaccine strain by PCR and thus confirm the presence of the vaccine in drinking water when animals have started to drink.
 
All the information collected during the audit will be evaluated and the client will then receive a report outlining areas for improvement, if any, along with the results obtained from the FTA cards at our Diagnostic Center (CECADI)
 
WEVAP is a simple and intuitive digital tool; in short, a relevant resource for any producer concerned with doing things correctly and efficiently.
 
It has also begun to work in Spain with external companies, specializing in sample collection and water quality in order to provide a more comprehensive service. With this invaluable support, we are able to meet our clients' needs.
We are all aware of the importance of maintaining an optimal level of quality in the water that animals drink. Parameters such as pH, chlorine or peroxide levels need to be monitored when it comes to successfully administering a vaccination.
It is highly important to maintain a suitable pH level to keep the vaccine stable, and to ensure that the water is biocide free, as all this can inactivate the vaccine and hinder the achievement of the expected immunity in animals.
All these parameters will be evaluated immediately before preparing the mixture, to thus be sure that the Salmonella vaccine will be protected and ensure its efficacy.
In conclusion, Calier aims to endow our flagship product, Primun Salmonella, with the value it deserves, with new technical services and, in turn, to accompany and provide guidance to all those who have decided to place their trust in us to protect their hens.