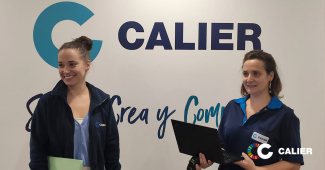 At Calier, we have been committed to animal health for more than half a century. Guided by the values of commitment, honesty, and the desire to excel, we have successfully positioned ourselves as a veterinary products company with benchmark products in the five species on which we focus our activity: poultry, bees, livestock and pets. 
And we have achieved this thanks to our more than 340 employees, who make a decisive contribution to achieving new goals. Because working at Calier means entering a world of opportunities, where you can add value, grow and develop; a project in which employees #FeelCreateShare and leave an imprint which goes beyond that defined by their role within the company.  
Our human team, our driving force 
Currently, our human team is distributed between our headquarters in Spain and 12 international subsidiaries that make up #teamCalier. They all share the same vision to continue advancing in animal welfare, food safety and disease control. Their initiative inspires us to continue improving, and their ability to adapt has allowed us to overcome enormous challenges. 
That our employees should #feel Calier's mission as their own is one of the key factors that have allowed us to grow over the years. From the company, we promote this, creating a work space where all professionals can contribute and #feel that they are contributing to the project. We promote new ideas and the professional development of our team so that each one of our collaborators can #create their own career pathway within the company. And we encourage innovative methodologies, transversal teams and collaborative processes, so that each member of #teamCalier can #share their vision with the rest of the team and feel that they are a fundamental part of this adventure. This is the basis for the new phase that we are now opening in Calier, in order to continue writing our history after 54 years in business.  
A family project led from Spain 
Founded in 1968, we form part of the Indukern Group, a Spanish family group focused on One Health through Calier, a veterinary products company, and Kern Pharma, a pharmaceutical company.  
"I have never been 100% satisfied with what we have achieved; that's why I have always thought about what we could do to be better, and what attainable goals we could achieve beyond the present" This phrase from our founder, José Luis Díaz-Varela, is one of the mottoes that best defines us in order understand how we have grown over these more than five decades. Because the values of the Indukern Group have endowed us with a unique overview of our mission of ensuring animal welfare and helping to guarantee food safety with pharmacological and biological products developed for the prevention and control of diseases. 
Honesty, closeness, the desire to improve and our enormous passion for what we do have characterized us from the outset, and have inspired us to continue facing challenges, together, working towards a promising and sustainable future.