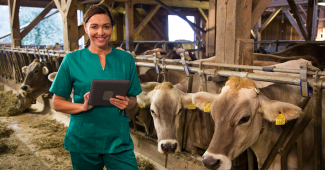 As part of Grupo Indukern, at Calier we are driven by a strong desire to excel and offer our customers the best possible service. In addition to developing innovative products for animal health and wellbeing, we also support veterinarians with value-added services to promote their professional practices and improve their skills.
Our Calier Training online platform, exclusively targeted at vets, is one example. We harness this digital tool to run webinars with renowned national and international experts in ruminants and pigs to #share the latest sector trends and advances and #create solutions for the current challenges in animal production. We have tapped the webinars to help over 5,000 vets with their professional development and hope to continue this year by adding new topics to our online platform for ongoing education.
Leading specialists in ruminants and pigs
At Calier we are dedicated to 5 animal health segments: poultry, beekeeping, ruminants, pigs and companion animals. While we engage in discussion forums on all of them, our Calier Training platform is primarily focused on ruminants and pigs, two areas with significant production challenges that we address with our products and quality training from the very best specialists.
Our speakers include authority figures such as Gabriel Bo, veterinary specialist in bovine reproduction and director of Argentina's IRAC Córdoba Animal Reproduction Institute; Giovanni Gnemmi, veterinary doctor and expert sonographer for Bovinevet International; Daniel Martínez, veterinary specialist in embryo transfers and founding partner of Embriovet; Albert Finestra, veterinary specialist in pig farming and pathologies and founder of Finestra Veterinarians Advisers S.L.; Javier de la Mata, veterinary specialist in bovine biotechnology and reproduction; Alejo Menchaca, researcher specialised in ovarian physiology and reproductive biotechnology, pioneer in transgenesis; and Antonio Gómez Peinado, leading expert in large animal reproduction and veterinary technical director of the Talavera de la Reina-based IEGRA Spanish Institute of Animal Genetics and Reproduction, the world's largest semen and embryo bank for fighting bulls.
Together with these partners, #teamCalier also gives online seminars on animal health topics such as the importance of tickicide rotation, presented by Calier Uruguay Technical Director Leonardo Tejera, or the costs of udder health, with Ana Isabel de Prado, our Global Technical & Marketing Manager for Ruminants.
These are just some of the topics discussed to date. For more on upcoming webinars and topics, simply sign up to the platform for free and we will keep you up to date on all our activities. To attend any events of interest, sign up in advance (it's free!) over the platform and connect to the webinar on the day by clicking the link provided.
Technical information at your fingertips
Once you've registered with the platform, you will also be able to access exclusive technical material. You can consult the virtual books of Giovanni Gnemmi, one of the most renowned cattle experts in the world, who has given the platform access to his expertise in ultrasonography and reproductive consulting through advanced technical material. With some 40 years of experience, Giovanni Gnemmi is an authority in the field and can help take your production to the next level.
Calier: supporting veterinary professionals
The Calier Training initiative was created to support veterinarians in their professional development. For more on topics you may be interested in, challenges you face and how we can help, we have a chat line to receive all your suggestions and comments.
Our webinar program is open to onboarding new and current topics that respond to our customers' needs. For 2023 we plan to step up our training offer with new webinars and topics and re-release previous ones that proved a success with attendees.
We encourage you to check our training program and sign up to the platform so you don't miss a thing and can continue to expand your knowledge with Calier Training.
*Check how to access the webinars through our sales network